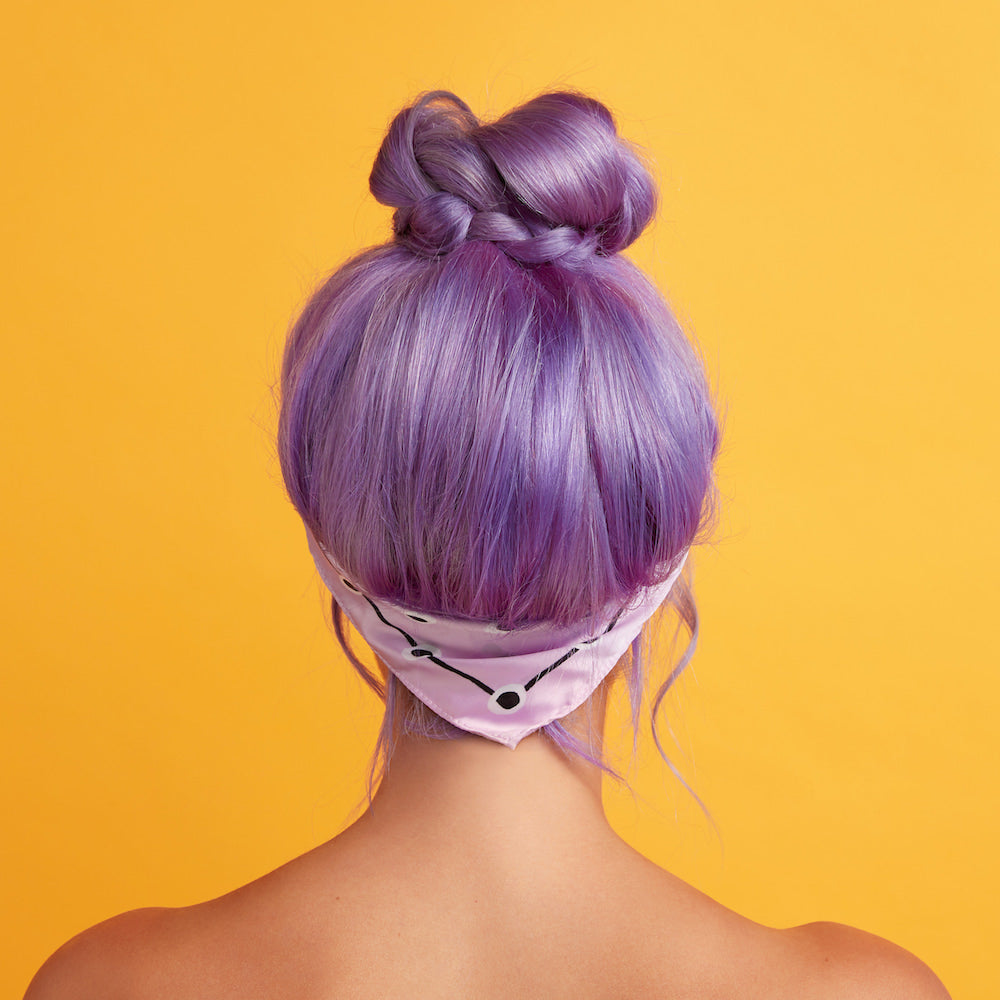 5 things you should know before going pastel
1. It's all about that base!
The key to every good structure is a good foundation, and the same can be said for turning your locks pastel. Making sure your base colour will work for the colour you want to achieve is crucial to achieving the perfect pastel.
First, a little lesson in how semi permanent hair dyes work: they coat the outside of your hair, rather than developing on it. This works the same way as painting your house, meaning that what's underneath will show through and impact the final colour.
So, in the same way you would paint a white base colour on walls before painting the colour you want to be left with, if you want to go pastel it's best to start from a white base with your hair. Meaning very light blonde hair, with no warm tones. We're talking platinum, people!
If you don't have blonde hair but are dyeing to go pastel (see what we did there?), you can use our bleach kit to lighten your hair up to 8 shades. Be sure to follow all the safety instructions on the packet, and always wait at least 48-72 hours after bleaching to dye your hair to give the cuticles time to settle.
Warm blonde? No problem! Using a purple shampoo like our Make Me Pastel Purple shampoo to tone your hair will knock out warm tones and get you ready for your pastel takeover!
2. It's as easy and one, two shampoo. 
If pastel pink or pastel purple is what you're after, you're in luck! Our Make Me Pastel Pink and Make Me Pastel Purple shampoo and conditioners are the easiest way to build up to your pastel hair dreams. They have a small amount of colour pigment in them which means that you stay in control of the intensity of your colour.
Want a subtle hint of pastel? Use the shampoo and conditioner once or twice a week.
After a more intense colour pop? Use the shampoo and conditioner daily, or leave in for 5-10 minutes before rinsing to really make that colour sing.
And don't forget rule 1; you'll need to start from a light base for the colour to show through. If you have darker blonde hair the purple shampoo and conditioner will work as a toner to eliminate brassiness (also a win!).
3. If you've bleached your hair, give it a little extra love. It'll love you back with better results
Getting to the ultimate pastel base can take bleaching if you don't have naturally hair. Bleaching is no walk in the park, it's important to follow all the safety instructions to make sure your hair is cared for while you bleach.
If your hair is feeling a little stressed after you bleach it don't worry, it just needs a little extra TLC. Using a bond building treatment like our Briteplex Repair Kit repairs hair that's been damaged by chemical treatments (like bleaching), and will restore your cuticles to their former glory! 
As a "thank you for loving us", your healthy hair cuticles will hold semi permanent colour much better, meaning you can create your perfect pastel look!
4. You can create your own pastels 
Use our pastel semi permanent colours to create your pastel dream, OR mix any of our vibrant semi permanent colour range with white conditioner to create a new pastel colour. So you can get creative and make your own unique, custom pastel!
5. Keep your pastels looking straight-from-the-salon fresh with tonal shampoo and conditioner
Using tonal shampoo and conditioners like our
Make Me
range will keep any colour looking fresh for longer! Use once a week to maintain your fresh from the salon look. To keep the pastel vibes going mix 1 part regular conditioner into your tonal conditioner to lessen the intensity of the colour.